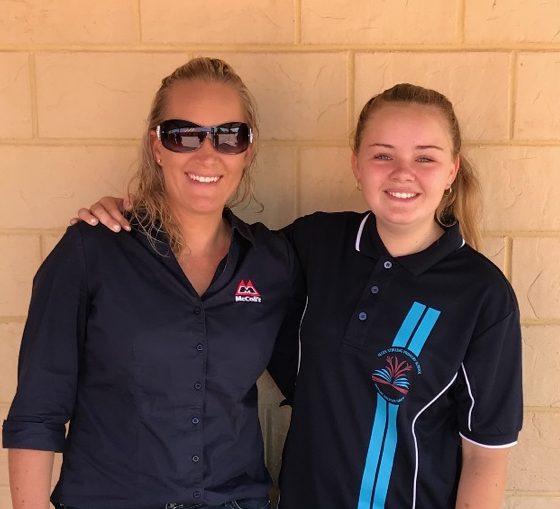 Our People
With nine years' experience behind the wheel, doing everything from driving long haul to installing underground fuel tanks, WA Operations Manager for the McColl's Bulk Chemicals Division, Nicole Trounson, has a solid grasp of the transport industry.
Last year, Nicole (pictured left with her daughter) decided to get off the road and take on a new challenge – becoming the Operations Manager for McColl's Bulk Chemicals Division in Western Australia.
"I love driving trucks and being on the road but it was time to try something new and this role uses all of the experience I've gained over the years," said Nicole.
"It is a huge responsibility managing the transport of dangerous goods across the state, as well as managing people, but I have a great team and we work really well together."
Day-to-day, Nicole manages a multitude of aspects of the business from customer requests and HR issues through to truck break downs at any time of the day or night and, occasionally, filling in behind the wheel, with the bulk of deliveries going to mine sites across WA.
"We are a small team with five drivers and when you are covering such a large area hauling dangerous chemicals like sodium hypochlorite and solvents, you always have to be on the ball," Nicole explained.
"If one of my drivers is stuck somewhere in the middle of the night, I must answer that call, make sure the driver is safe and get them back on the road as soon as possible."
This is Nicole's second stint at McColl's. So, what drew her back to the company?
"I like the people I work with, not just in my team but right across the country," she said.
"And taking on this new role has also given me the chance to be at home more with my family, which is really important to me. It's one of the things I like about working for McColl's – they are flexible and understanding about making family a priority."
Justin Keast, General Manager – Bulk Chemicals Division, said Nicole's dedication was great to see.
"Nicole is very customer focused and she has built a great rapport with our WA customers. She understands what the customer needs and does everything she can to ensure that those needs are met," Justin said.
"She manages each aspect of her role with a steady temperament and friendly disposition and I think we'll see the WA business grow under her leadership."