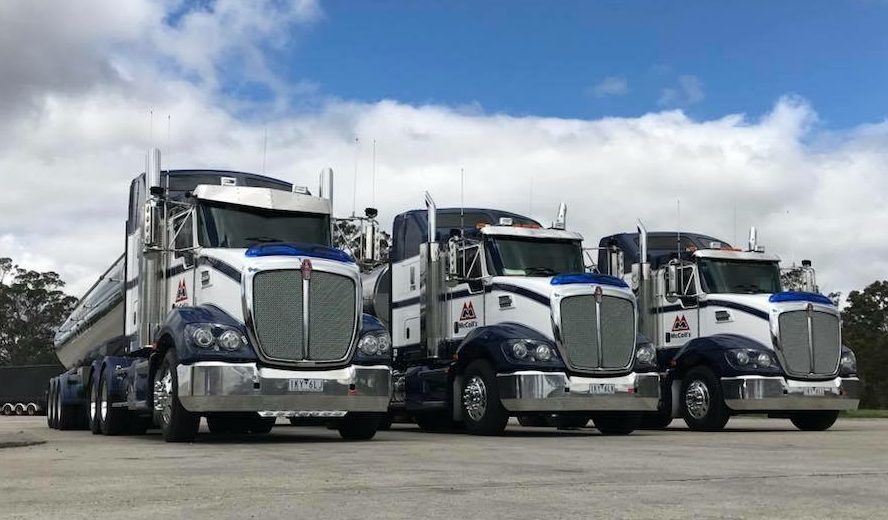 Fleet Investment
McColl's is committed to providing reliable service by investing in new and innovative equipment. Recent fleet upgrades and additions include 40 prime movers and 24 tankers.
Among the big additions are six new Byford road-trains and three new Tieman 26-metre road trains for the Dairy division. These road trains feature steerable axles, providing better maneuverability and easier and faster access onto farms. The road trains are also capable of carrying a bigger payload, which is a welcome boost to McColl's haulage capacity.
The six Byfords are headed for the Dairy regions of Northern and Western Victoria and South Australia, while the Tiemans are headed for NSW. Other additions to the Dairy Division included one Tieman 30,000-litre single tanker; two Dunn Engineering dollies; and four 30,000-litre Byford single tankers. The Dairy Division has purchased 26 Volvo FM 540, one FH 540 and three Scania R560s to replace older assets and growth.
McColl's has purchased two new Evolution tankers made using carbon fibre composite materials, with a polyethylene thermoplastic interior for the Bulk Chemicals Division.  This means the tankers are far less corrosive and suitable to transport a wide range of liquids. The thermoplastic interior also reduces absorption which means that we can switch safely between different products after a wash out.
Two new Tieman dangerous goods stainless tankers have been ordered to work as a pocket road train in Western Australia, two Byford stainless DG leads to work as B-doubles on the Eastern seaboard and two Marshall Lethlean stainless lead tankers.
McColl's Bulk Food Grade Division added nine Kenworth T409s, one Kenworth T610, two Scania R730s, two Volvo Globetrotters and one Tieman compartmented tanker to its Fleet.